With Joyseat Ambassador about Love for Gravel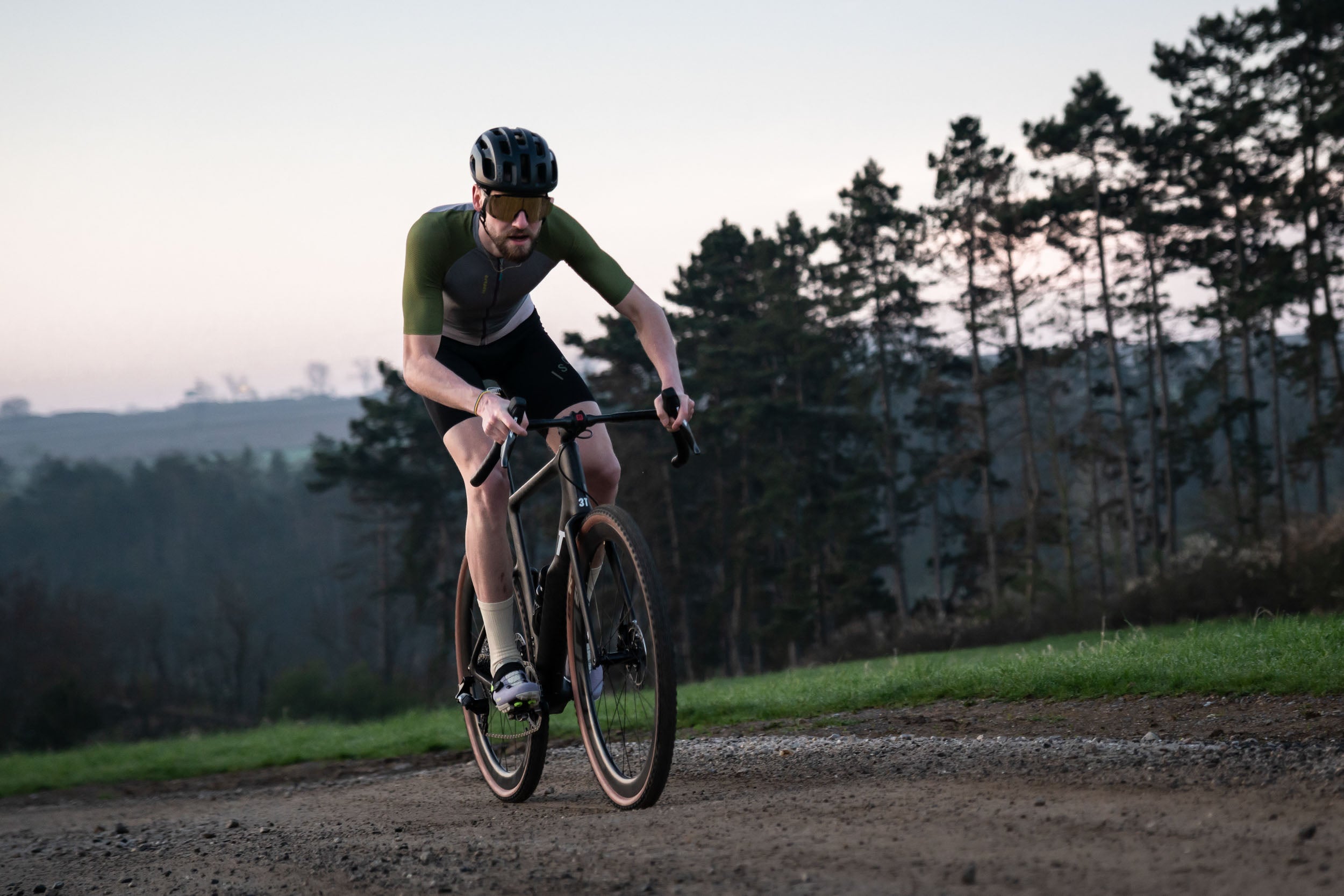 Lukáš Zahradníček rides approximately 6,000 km per year on his bike, with over half of that distance being on gravel with his 3T bike. Lukáš's passion for gravel has not only made him an ambassador for 3T and Joyseat, but also led him to co-organize a unique 300 km gravel festival Jeroboam in the Jeseníky Mountains, starting on June 22nd, 2023. We met at Prague's Kolovna Bike Centre to talk about Jeroboam and his recent visit to the 3T factory in Italy.

Posedla: Lukáš, how did you get into cycling?
Lukáš: It hasn't been a straightforward journey for me. I used to play basketball in elementary and high school, but I eventually lost interest. I got together with some guys who were really into enduro and dirt biking, and I gradually transitioned from basketball to cycling. I rode during my college years and continued biking ever since.

Do you remember your first experience on a bike?
What I remember vividly is my first race. It was the 3DH CUP, and it was terrible. The timing system broke down, the timed warm-up practice wasn't recorded, so the race started in the order in which people signed up for the event. I was nervous that my friend, who was a skilled rider, would get behind my back right away, which he did after the third turn. I had to jump aside... It was a horrible race for me.

Today, you're riding a 3T gravel bike. How did you transition from enduro to gravel?
I started with classic enduro biking and tried downhill for a while. I used to ride with my friends in bike parks, especially Špičák, which was the most popular Czech bike park back then. First, I had ridden a road bike after I started to work at Kolovna almost five years ago. But when I discovered gravel biking, I never went back to a classic road bike.

So you never owned a road bike?
No, I went straight from mountain biking to gravel biking. I got tired of driving my bike out of town in a car. It would take an hour or two just to reach a suitable biking location. With gravel biking, I can start right in front of my house and go wherever I need to.
Wasn't the idea of owning a road bike tempting?
I've considered it, but I've been leaning towards getting a set of road wheels instead and switching them with gravel wheels. Currently, I have a new Italian 3T Race Max Italia Project X, and it's on par with most road bikes.
You didn't go to the shop to get your new 3T bike, did you? Is this your third 3T in a row?
Yes, this is my third bike from 3T. I've had the new one for about a month and a half. The 3T Race Max Italia Project X frame is made in Italy using a
unique carbon fiber weaving and layering method
. We were invited to the factory in Bergamo, where 3T showed us the entire frame production process. It was amazing to witness the intricate work and the dedicated team behind it. At the end of the process, during the paint job, they told me that the frame I was looking at being created was mine.

I like how you mentioned getting where you need to go on a bike. What has been your longest ride?
Last year, in collaboration with KOA, our team at Kolovna organized the Prague-Ještěd-Prague ride. That was approximately 230 km in one day.

When did you start bikepacking?
Around 2021. My friends and I wanted to tackle longer distances without rushing it all in a single day. We split it into a weekend and found it to be a great experience. It allowed us to enjoy the freedom of riding without time constraints.

Do you usually camp out or rely on accommodations during bikepacking trips?
I'm gradually getting used to sleeping in the wild. If we find a place we like, we unpack our sleeping bags and build a camp.


Even though you started bikepacking to avoid covering hundreds of kilometers in a day, you still go on long gravel rides.
Yes, I've participated in events like Stoneman and Wolfking. Stoneman is primarily designed for mountain bikes, and I believe most of the trails are only suitable for MTBs. However, the German event can be tackled on a gravel bike as well. We split it into two days, aiming for a delightful bikepacking weekend.

But you didn't split the Wolfking event, right? [ed. note: 222 km, 4 000 m elevation gain in one day]
No, we didn't split it. Although there was a significant elevation gain, the entire route was mostly paved, making it doable. I switched to slick gravel tires, which were wider compared to my fellows on road bikes, but I managed to keep up with them.

How do you manage long rides like that?
Surprisingly, I cope quite well. I prepare myself, knowing it's going to be a long day on the bike and that challenges may arise, but that it will be great. And it's always been great.

So, you prepare yourself mentally?
Yep. Before I get on the bike and start riding, I feel nervous. I constantly question if I have everything I need and if my bike is in proper condition. However, once I start pedaling, everything falls into place, and I find pure enjoyment in the moment.

What about physical preparation?
I try to stay active. I used to train with Jan Falge at KOA. Strengthening my body translates into a better biking experience. During winter, I focus on cross-country skiing and downhill skiing. Apart from that, it's all about biking.

This year, you're transitioning from being a participant to becoming an event organizer. Tell us more about Jeroboam.
Our team at Kolovna is in the final stages of preparing for the event. This year, in collaboration with 3T, we decided to bring this event to the Czech Republic. Jeroboam is a traditional gravel event that originated six years ago in Italy. We visited the Italian edition to understand the requirements and, more importantly, what mistakes to avoid.

Is Jeroboam exclusively for gravel biking?
Primarily, yes. It's a challenging event with four routes named after wine bottle sizes. The Jeroboam route covers 300 km, followed by Magnum (150 km), Standard (75 km), and Demi (37.5 km).

Which direction will the route take?
We will showcase the best gravel trails in the Jeseníky Mountains. Planning a 300 km route means that we will cover almost the entire mountain range. My colleagues Pavlína and Janka from Hynčice worked on designing the route. We also organize gravel camps in the Jeseníky Mountains, so we are quite familiar with the area. The girls explored and ensured that the route would be fantastic.
So, it's like a sightseeing tour in Jeseníky?
Yes, you can explore everything in two days. If someone wants to ride non-stop, they can, but we believe it's ideal to split it into two days, embracing the spirit of bikepacking and truly enjoying the journey. Participants can choose to sleep in the wilderness or spend the night in a sports hall halfway through the route.

Do you provide any support during the event?
Jeroboam is an unsupported event, without starting numbers or announced winners. However, we plan to offer at least one feeding station along the 300 km route.

What are your upcoming plans?
Next week, I'm embarking on a bikepacking trip along the Tuscany Trail. In July, I'll pack my bike into the camper van and ride through Austria and Italy.

Will you be riding those trips on Joyseat?
I've been riding Joyseat for a year and a half, and I wouldn't change a thing. I'm grateful to the guys for choosing me as a test rider. When you sometimes spend up to nine hours in the saddle, you truly appreciate the comfort it provides.
---